Don't adjust your calendar, it really is 2021, not 2003, and Chris Moneymaker is making a deep run in the World Series of Poker (WSOP) Main Event.
PokerNews caught up with the former world champ on the first break of Day 4 to see how his current Main Event run compares to 18 years ago, when he won the whole shebang.
Moneymaker left the table on break with around 1.3 million chips, which put him at 130 big blinds and among the top 20 chip leaders. The money bubble burst at about 1:30 a.m. on Day 3, with Kevin Campbell's aces getting cracked.
A few hours earlier, at the feature table where Moneymaker was seated, Chang Liu busted with quad 4's against quad 6's, one of the cruelest ways to exit poker's world championship event, especially considering it was so close to the bubble.
"That was one of the sickest hands I've ever seen," Moneymaker told PokerNews.
New Decade, Not the Same Moneymaker
In 2003, Chris Moneymaker was a 28-year-old unknown accountant from Tennessee who came to the $10,000 buy-in WSOP Main Event with nothing but a pipe dream, and left with $2.5 million and a world title that would forever change his life. Fast forward 18 years later and he's days away from his 46th birthday. He no longer reps PokerStars — he promotes another site now. And he's no longer a bean counter for a living.
But one thing has remained the same — he's still passionate about poker and promoting the game. His outlook on the tournament, however, is far different than in 2003.
"It's a completely different experience," Moneymaker said of the comparisons between the 2003 and 2021 Main Events. "Back in 2003, I was playing for life-changing money. I was playing to set my future up, and I was playing for the experience. Now, I'm out here enjoying myself. This is fun. I got zero stress if I bust."
In 2003, he says, there was more pressure on him given that he wasn't set financially. These days, however, he's more financially secure, so an elimination at any point won't be as soul-crushing as it was 18 years ago.
"It's a lot different when you're not playing for food," he continued. "I'm still hungry, I still want to win, and I spent a lot of time preparing to come out and play my best, but the good thing is there's no pressure on me."
Navigating a Huge Field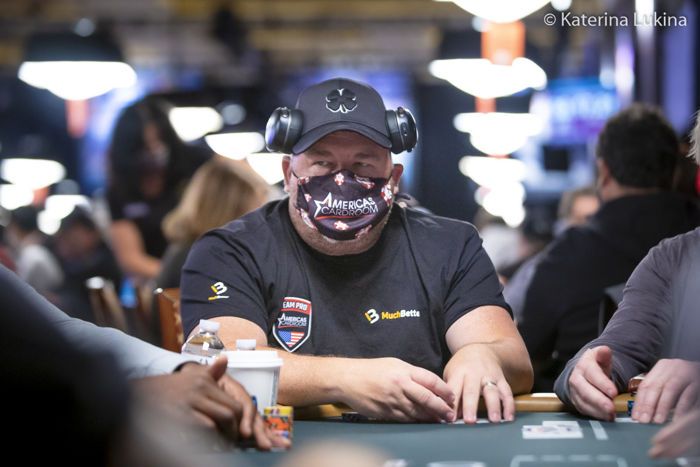 Moneymaker could be at an advantage over some more inexperienced players, or those who are more concerned with pay jumps. When asked if he'd pounce on the "scared money" going forward, he said, "well, of course, you saw that last night near the bubble as much as I could."
"Whenever you have a significant pay jump, I'm going to hopefully have a table where I can take advantage," Moneymaker explains.
In 2003, the Main Event attracted 839 players, a record at the time. That number pales in comparison to 2021, in which 6,650 players took their shot at poker's most coveted title. There are more players who will cash in 2021 — 1,000 — than entered the tournament altogether in 2021. And it's widely acknowledged that the caliber of play in just about any poker tournament or cash game these days is tougher than it was back then.
So, as Moneymaker acknowledges, winning the Main Event again will be more difficult than it was in 2003, even though he was just an amateur with minimal experience at the time. He's already spent a significant amount of time on the PokerGO livestream feature table, and he likely will again going forward, which could potentially be advantageous to the Poker Hall of Famer. Or, maybe being on TV could bring about some added pressure?
"I used to worry about playing perfect poker when I'm on TV, but I could give two s***s anymore, I just play my game," he said with a laugh. "If I make a mistake or do something stupid (so be it). I just know that all my plays, right or wrong, have a reason behind them. But as far as the pressure, I mean, yeah, you're definitely going to have pressure for other people for their first time experience, but honestly after about 20-30 minutes, it all calms."
As for whether Moneymaker prefers the WSOP at its current home, the Rio All-Suites Hotel & Casino, or Binion's downtown, he might be a bit biased here, admittedly.
"Well, I won at Binion's, so we'll go Binion's," he said as he headed back to his table to begin the second level of play on Day 4 of the 2021 World Series of Poker Main Event.
Check out all of the WSOP Main Event updates